Persona | Travel & Hospitality
RAD AI Guides Creator Content for the Leading Hospitality Enterprise.
R

emove

A

ll

D

oubt

A leading Travel & Hospitality company came to RAD AI to deliver influencer content for an array of destinations and experiences.

The company needed more than just opinions about what experiences they should feature to accomplish the campaign objectives. Most importantly, the brand expressed the importance of de-risking the content and creator strategy as much as possible.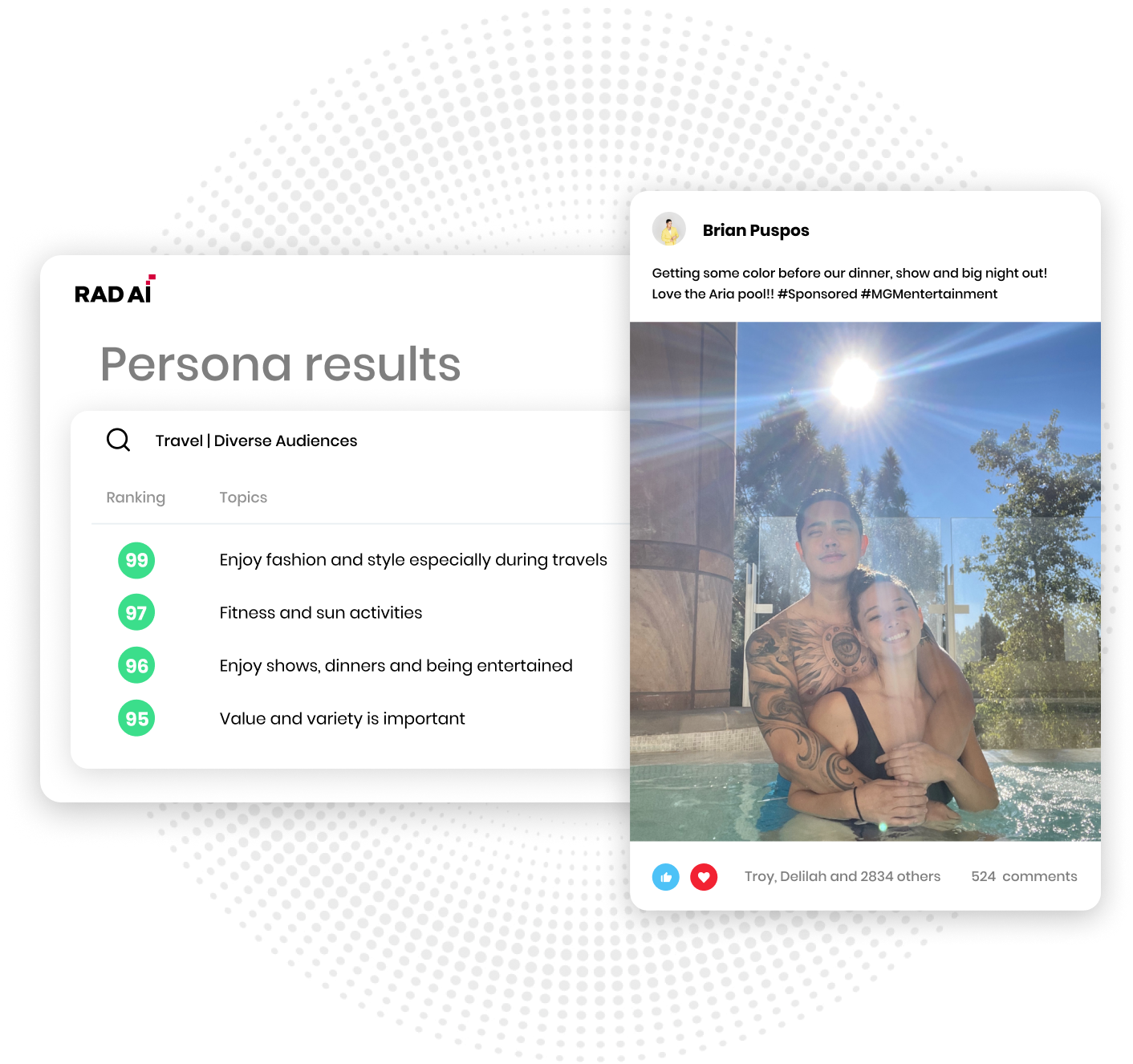 Key Challenges
Developing a new creative strategy that uses RAD AI insights to future proof the campaign requirements.
Benchmarking 6 months of the brands marketing performance to compare RAD AI creative strategy and content against.
Identifying creators that have overlapping interests with the persona, campaign topics, and creative strategy.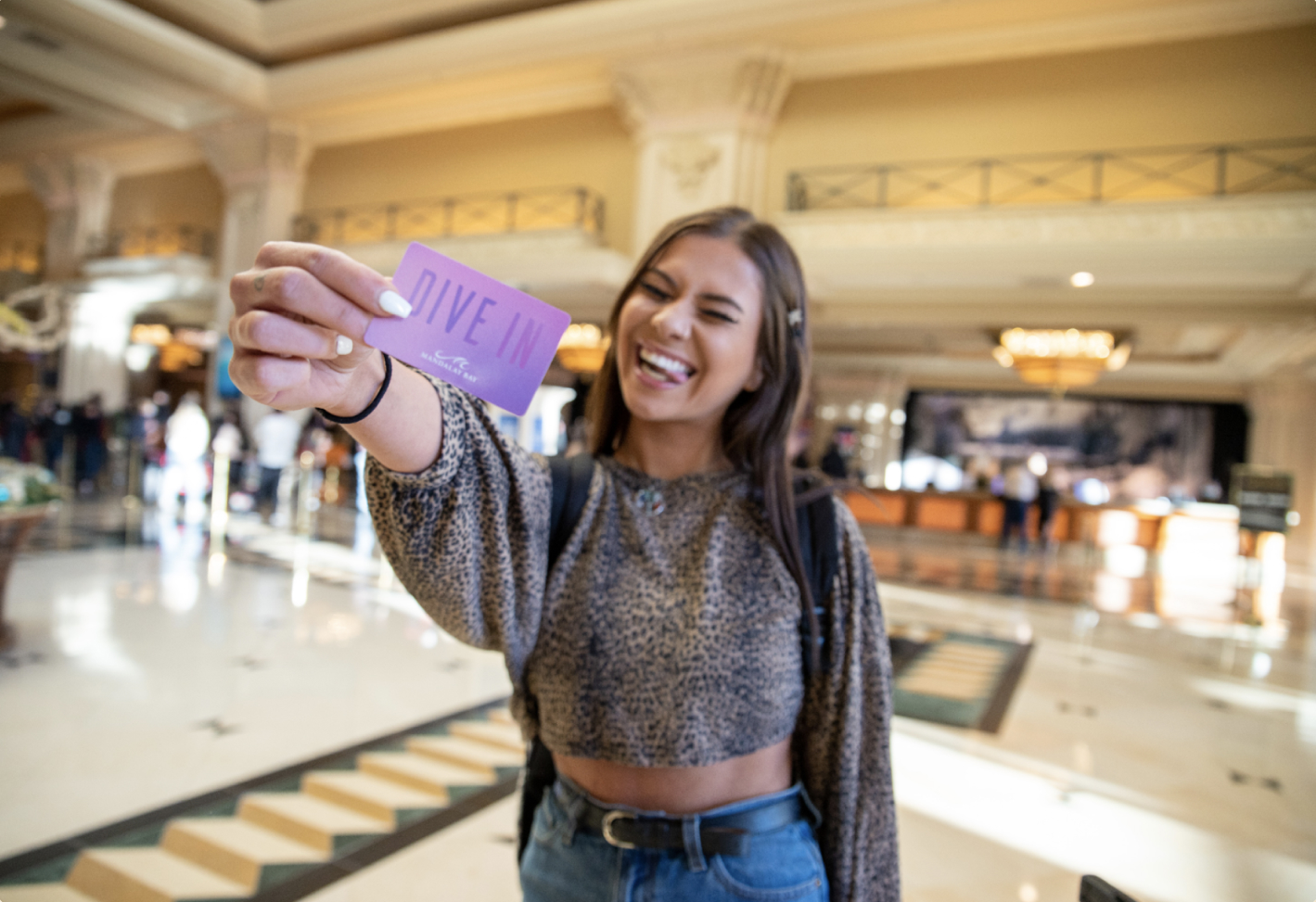 RAD AI Persona Level Analysis Changes the Creative Strategy
The brands asked us to validate our creator and content strategy with defensible data.
RAD AI provided actionable insights that helped define the creative concepts, content strategy and creator selections. This new, data-informed campaign strategy resulted in highly authentic content tailored to diverse audience sets.
AI Informed Creative Strategy
Design an array of connected experiences for creators to make user-generated content around
Encourage guests to participate in more experiences during their visit
Leverage persona feedback on a variety of experiences that deliver value and excitement
Create a variety of AI-informed content for continued paid advertising
Activate creators with diverse audiences that love fashion, entertainment and shows
Advise the client against one of the originally submitted campaign strategies
Before

RAD AI

We compared 6 months of historical performance across our clients top 2 social channels. We benchmarked an aggregate reach >13M, with over 300k engagements at a 2.5% engagement rate.
RAD AI

Results

RAD AI delivered 4.9M impressions over a two month time frame. 303k RAD AI informed engagements were recorded. The engagement rate average for RAD AI informed content was 6.1% for this analysis.
Persona Based AI Analysis Delivers Better Performance





Our Results
By the numbers
The content was created to be fed into the entire marketing mix. RAD uses its AI to guide what type of content needs to be created per channel. The brand approves each piece of content prior to it being pushed live.
13
Total creators activated
---
Marketers have biased opinions about which creator will or won't work. RAD AI is used to validate creator selections and remove biased opinions about what the campaign strategy should be.
220%
Engagement rate improvement
---
We predict future RAD AI informed content improvement will increase to an 8% engagement rate, a 220% increase from normative benchmarks.
Examples of AI Informed Content
Persona level AI analysis provides actionable information our clients creative team was able to use.
The result of using the RAD AI persona engine is next level campaign performance and ROI.
What we Accomplished
Using RAD AI insights to guide the campaign changed the game. Relatable hospitality experiences produced a predicted 220% performance improvement.
WE delivered 303k net new people (target audiences) engaged with RAD AI informed content.
In 60 days, we not only outperformed the previous 6 months of content performance, but we provided an actionable content plan for future activations.
R

emove

A

ll

D

oubt about your creative strategy and the topics your customers care about.