Industry | Healthcare
RAD AI Guides Creator Activations for Healthcare Enterprises Across North America.
Why RAD AI for Healthcare
Leading healthcare enterprises come to RAD AI to develop authentic creator content at scale. Our solutions team helps every step of the way by using our AI to guide the creator selection and strategy for each activation.
This winning methodology ensures that each creator has an authentic connection with the brand. The data is clear, authentic content creates better content and more ROI.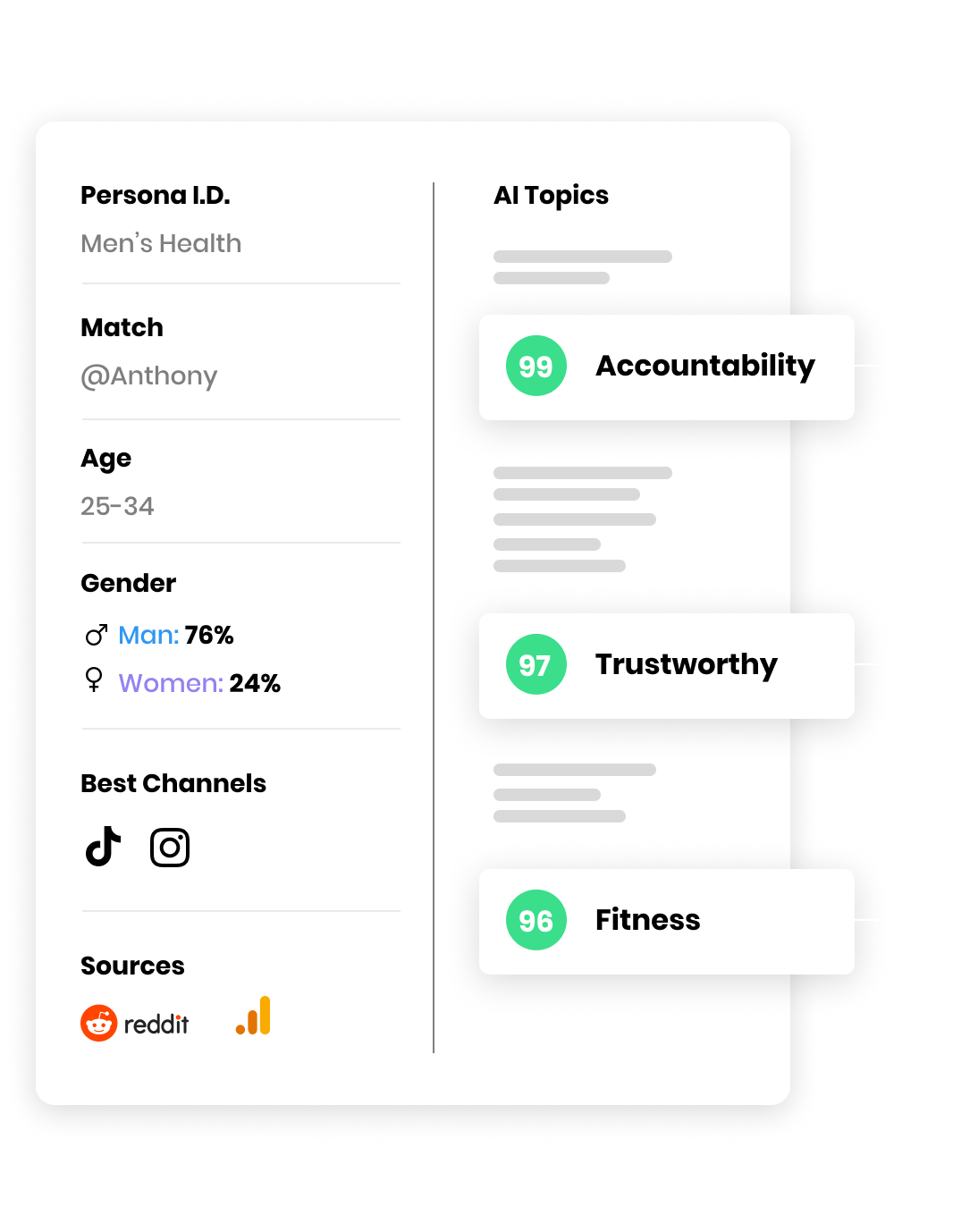 Key Challenges
Identifying authentic creators that match the identified persona and objective.
Validate strategy with AI backed data that guides creative decisions.
Deliver a custom AI feedback loop that is scalable by client and objective.
Satisfy multiple stakeholders with easy to understand campaign reporting and ROI analysis.
Adhere to client approved budget requirements per activation with content.
Marketing Objectives
Create awareness around a variety of important healthcare topics designated by each client.
Deliver authentic content that can be repurposed across the entire marketing mix.
Deliver guaranteed reach, engagements and impressions.
Analyze the content and creator performance with custom-built AI models to inform future marketing decisions.
Secure comprehensive digital rights for paid advertising.
Before RAD AI
We compared 6 months of historical performance across our clients top 2 social channels. We benchmarked 1.87M impressions with 152k engagements at a .08% engagement rate.
RAD AI

Results

RAD AI delivered 2.65M impressions on these same social channels. 112k RAD AI informed engagements were recorded. The engagement rate average for RAD AI informed content was 4.22% for this analysis.
Better Creators and Content Delivers More ROI



2.65M
AI-informed
Impressions

4.22%
AI-informed
Engagement Rate

Results
By the numbers
The content was created to be fed into the entire marketing mix. RAD uses its AI to guide what type of content needs to be created per channel. The brand approves each piece of content prior to it being pushed live.
17
Total creators activated
---
Marketers have biased opinions about which creator will or won't work. RAD AI is used to validate creator selections and remove biased opinions about what the campaign strategy should be.
830
Aggregate hours saved
---
249 - Hours saved booking influencers
447 - Hours saved creating content
249 - Hours saved on creative strategy

What we Accomplished Together
We identified net new audiences that produced quantifiable campaign ROI that exceeded >5X.
We delivered AI informed creative intelligence that out-performed the benchmarked content on each activation channel.
By analyzing the top performing creator content, we identified topics, hashtags, and content styles predicted to perform best.
We identified the ideal content type and messaging that the our clients target customer persona responds best to.
We created a reliable, data informed feedback loop that guides the creative and content strategy for upcoming initiatives.